Endless Spectacular Scenery!
When you think of Greece's most beautiful scenery, Crete doesn't really
come to mind!? However there is a lot to be discovered on this island!
Firstly… it's a lot larger than you may think! Very wide but not so tall.
It would take 6 hours to drive from one side to the other!
We began our
journey in Gouves. After a late night flight, our car was waiting the next
day and we started the long drive to Kissamoss. The ultimate aim was the
visit Balos Beach. A stunning piece of wild landscape situated at the very
north westerly tip of Crete. We were staying in Kissamoss that night, so after the long drive we decided to go the next day. We were treated to a spectacular sunset on the first night.

Kissamoss town itself feels like half tourist and half old town typical
Greece. There is enough adapted for tourism but also some gems like this old abandoned
doorway!
Getting to Balos Beach
The road to Balos is either by boat or by 4×4. The road is ….not
really a road….more of a dust path with sharp pointy rocks and large potholes. Don't
take your rental car here…(many do but ruin the cars and you'll find in the
small print that you are not insured to do so). There is another option.
We didn't want to be stuck to the times of the boat so we went to Kissamoss
car hire and rented a Suzuki Jimney, a tiny 4×4 for the trip. (3 of us so
it was cheaper than the €27pp boat trip)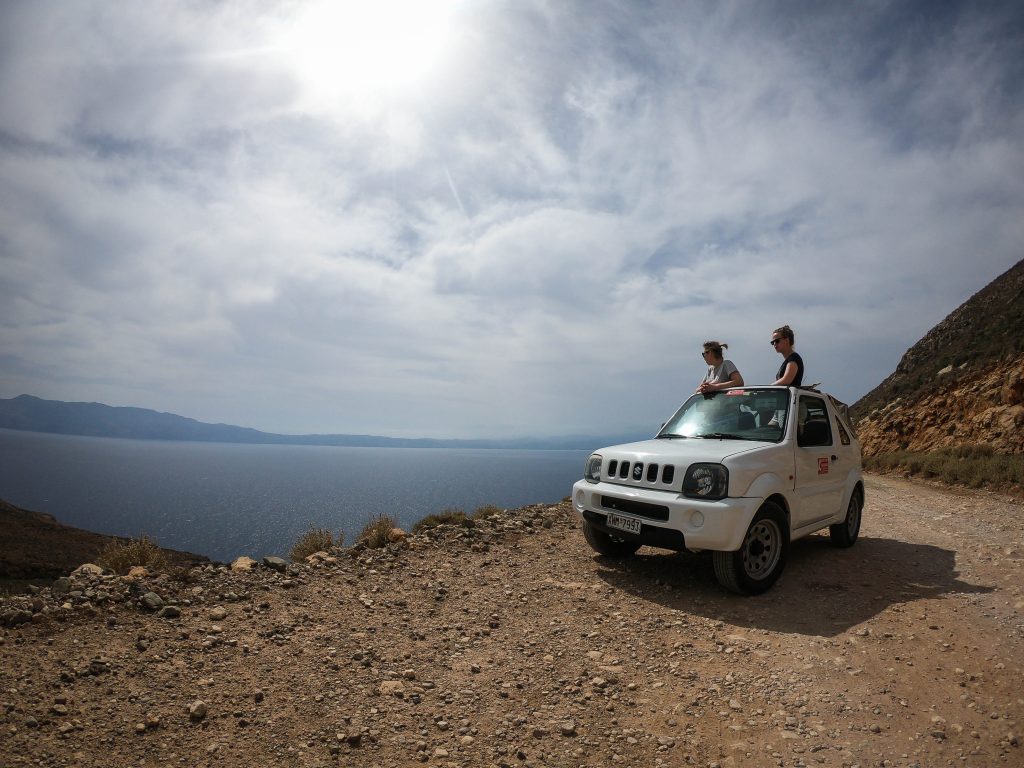 There is a small fee upon entry fee upon entry as it is considered a national park. The dirt road maybe lasts 10km, at a
slow pace so took a while. The parking lot at the end of the road has more
goats than it does car park slots. It's a bit of a walk down to Balos but
the view is spectacular!
We picked a spot further away from the crowds and spent most of the day
snorkelling and chilling in the beautiful surroundings. Watch out for the
thousand steps on the way back up! There is some chap making a fortune out
of donkey rides to the top! Genius!
Onwards to Plakias
The next day we drove back towards Chania. We had planned on renting a
boat for ourselves for the day but the wind had other plans. The boats are
small crafts and would only be suited to a calm day. If you are in Chania
I would highly recommend renting from Alex in Sea and Sun Ribs
seasunboats.gr His English is excellent and he was very good at
keeping in touch re the weather forecast. Chania town was a bit of a mess
that day…roads blocked off and police everywhere so we didn't stop but
began our journey to Plakias. This is where you start to hit the
mountains! The scenery is just breathtaking.
You must drive through Kourtaliotiko Gorge on the way to Plakias. It is well worth a stop. There
are several lay by's on the road and steps down to the gorge. Be prepared
for more steps! The path splits in two early on – the left path goes down
to the gorge and the church and the right path takes you down to the river
itself…where there is a nice spot to swim! It is however freezing from
"snow melt" …so perhaps not the warm spa waters we had hoped for!
Plakias
We stayed at the Galini Beach, which, much to our
surprise was less than a stones throw from the ocean. The owner was
lovely and the price was very reasonable…we would return for sure! We
based ourselves here for a few nights. Plakias is a lovely town but also
at risk of losing some of it's Greek charm to tourism. Just above the
town, higher in the mountains, you will find a more authentic Greek
village, Mirthios! A sleepy little town, the streets covered in bright
pink flowers with oranges and lemon trees at every available corner!
Some children were playing in the narrow streets, their voices echoed through
the laneways….not a playstation or mobile phone to be seen! While you are
there, I would highly recommend the Plateia Tavern restaurant. If you get
there early enough (not after 1830) you have your choice of seats, since they don't
take reservations! The panoramic view from the open air restaurant will
not be beaten! Food is excellent and very good value! They were full
every night!
Kalypso Beach
For the other days in Plakias, we spent a full day at Kalypso Beach. It is
situated in the mountains beside Plakias and completely hidden from view
from Plakias beach. Even the drive to this place was amazing! There is
decking all along the cove…. No beach but who needs one when you have your
own cove and deep blue waters for snorkelling! It is lined with a small
number of sun beds and feels very exclusive. Technically the beds are for
the hotel guests but it just wasn't busy enough at the time so we didn't
need to worry. However, if you are going…perhaps go on a weekday as I
imagine it would be very popular with the locals over the weekend.
There is a pretty steep drop off the edge of decking which was so much fun
to jump off…! There is a rope bridge across to a ladder and amazing view
point, looking back over the hotel and grounds. They really have made the
best out of this place without ruining its natural vibe! If you swim out
of the cove off to the right it gets incredibly deep but visibility is
astonishing….so it is like visiting another world!
If you are up for a
tons of steps… then I suggest making your way to the car park and zipping
up to the top of the cliff for an overall view of the resort from quite a
height!
A few other bits to remember – there is a dive centre that
operates right out of the cove. They did snorkelling and dive tours ….and
they were always busy! If you are mad for seeing fish…this isnt exactly
the place. They are very small numbers of fish here and Crete in general.
Perhaps some of the offshore islands might be better! There is not a whole
lot of parking in Kalypso so perhaps get there early!
Previlli Beach & Triopetra
We spent the rest of our days in Plakias visiting other beaches …Previlli Beach and Triopetra​ to be exact.​ Both very different! Previlli Beach looks like something from
biblical times. More steps I am afraid… and quite a lot of them to get
down. You pay a small fee to get into the car park but it is very small so
again… early bird catches the worm. It was very windy the day we visited
so not so suitable for swimming but plenty of coves that would be perfect
for snorkelling on a better day.
There is some sort of oasis of palm trees
and a river that runs back wards into the mountain. The is a palm tree
forest that goes back quite a good bit into the gorge. Peek your head out​ to the stream​ and expect to see Moses in a basket floating by…. yup.. it's that kind of
place. Beautiful!
Triopetra
Another beach well worth a visit is Triopeta.
By all appearances a standard beach with sunshine all day and a few restaurants but if you walk to the end of
the coast, you will discover some amazing giant rock formations. Thick slabs of rock laid one of top of the other in a slightly unbalanced looking way….but they stay oddly perched at the end of the beach in a wild a stunning corner of Crete. We spent hours jumping through the rocks and finding different places to sit and watch the ocean.
Thats about all we could squeeze into one week! It is such a beauitful island and the coastline is only the beginning. Spend a day or two getting lost in the mountains, the towns and local people that you will meet are just incredbile. The scenery, especially in the mountains is just epic , with really low valleys and super high mountain tops…all basking in non stop sunshine!
hmm which Island is next?
[jetpack_subscription_form title="Subscribe to my blog" subscribe_text="Enter your email to receive notifications of new blog posts!" subscribe_button="Sign Me Up" ]