Visiting Gopro's headoffice was not how I thought 2018 would begin!!
I have been the very proud owner of a Gopro camera since the Hero 2. Almost 7 years, several thousand photos and a few Gopro's later I've mastered this magic little box! I remember always having such a dilemma between actually doing the sport or photographing the sport! That's where Nick Woodman had a fantastic idea. The camera that comes with you and never misses the action! For those of you who don't know, Gopro is a fully water proof action camera, capable of insane quality video and stunning images at wide angles! Needless to say, when I got a chance to visit their headquarters, I was excited!
Their offices are in San Mateo in California. Just a quick 8032km from Ireland! Aer Lingus get's me right to their doorstep in San Francisco! A quick stop in Santa Cruz for the weekend… just my luck, the weather was unusally warm!
Golden Hour in Santa Cruz
I guess I really understand Golden Hour now… beautiful golden light hits the water and residents come to the beach to watch the sunset!
Surf was low but it didnt stop some eager beavers!
https://www.flickr.com/photos/fionamadden/40427761511/in/dateposted-public/
Monday's journey to Gopro left us driving up a tiny bit of highway 1 again, which bought back wonderful memories! I managed to snap this pic at the infamous Davenport coastline! It is such a raw piece of coastline where you really see the vastness of the ocean!
Highway 1 was full of flowers…yes in February? Yellow coated the hills and spread it's birght carpet all the way down to the ocean! Global warming Mr Trump…?!!
Arriving at Gopro!
It was quite clear to me when we had arrived at Gopro, as there was huge prints (5 car park stories high) of Gopro photos along the sides of the buildings! It looked incredible. The offices are such cool, bright spaces with HD videos streaming and large backlit photos on the walls! I was home!
Meeting Devon and Michael I was surprised to hear how many photos I had entered to Gopro over the years! Gopro Geek ! They showed us around and to the famous wall of the Evolution of Gopro… any die hard fans recognise their 2009 helmet hero?
I was the very fortunate receiver of a Gopro Seeker bag (love this….WANTED one for agesss) and the AMAZING Gopro Hero 6! Wooop! It was certainly part of my purchase plan for 2018 but there's nothing like being handed one by the company who makes it! Delighted was an understatement!
As if that wasnt enough, we were treated to lunch and the best cream soda I have ever tasted!
Needless to say it was an incredible day! Super Stoked to meet the lovely Devon and Michael who showed us around and spoilt me with this amazing gift!
As we left, we threw on our T-shirts and snapped a selfie in front of the massive car park photo! I cant WAIT to have a reason to go back!
They say you should never meet your Hero, but I disagree! Cheers Gopro…many more photos to come!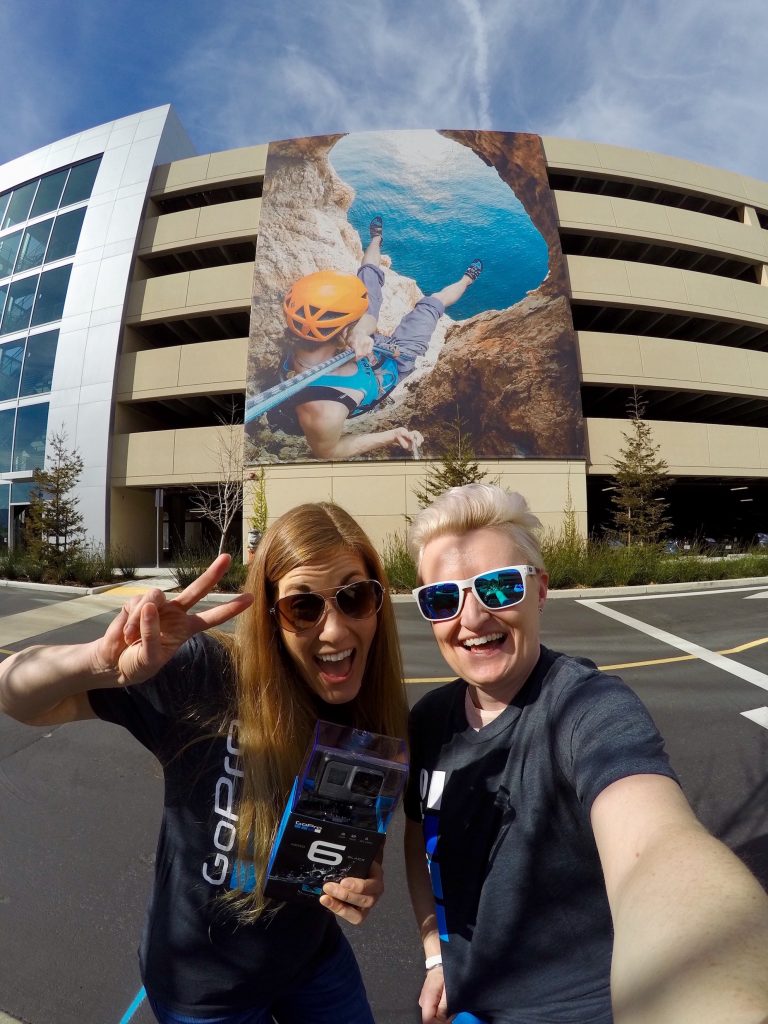 [jetpack_subscription_form title="Subscribe to my blog" subscribe_text="Enter your email to receive notifications of new blog posts!" subscribe_button="Sign Me Up" ]