As Oscar Wilde put it " Wild mountainous country, magnificent in every way".
I'm sure Ive been here before! 7 years old, or 10? Either way, most likely paying very little attention to the magic scenery! It's valleys are lonely and desolate places, with untouched landscape as far as the eye can see. There was a hue of rust coloured heather and a brisk temperature reminding me that summer wasnt as close as I had hoped!
We stayed a night at the beautiful Ballynahinch Castle in Recess, Co Galway. Sitting in the backyard of the Tweleve Bens mountain range, it's the prefect retreat. The castle itself is very homely, with small nooks and crannies to sit and relax. Sitting by the fireplace we felt as if we were home. The grounds are quite large and well worth a stroll around.
Breakfast must be mentioned as the best part of the day in Ballynahinch! If you are up early enough you will be delighted to be ushered to a window seat, with the most idealic view of the lake. As for the breakfast, well, where do I start. Their own home made muesli and home made breakfast muffins were delicious. But dont start filling up there! Mistake! The breakfast menu itself was anything from a full Irish, to pancakes or salmon. The entire meal probably took an hour and a half, while relaxing and surveying our land out the window! Wonderful stuff.
Derryclare lake was one of my favourite places on the road to Clifden. You stumble across it suddenly, if you are heading west, towards Clifden. If you are lucky enough to catch it on a calm evening it's like a glass reflection, not a ripple in the water , just a perfect stillness. I could have stayed for hours! Note to self – this is the first time I have ever considered camping as a possibility.
Connemara National Park was also on our list while visiting the region. We had seen photos of the famous Diamond hill walk. So after some discussion, map reading and general guessing, we decided to climb the blue trail (3km) and onto the red trail (3.7km) to the top. I remember thinking, 6 odd kilometers…. sure that wont take long. Ekk, I was very wrong.
As we got further up the hill, it started to get windy. Just like my Instagram post about it… "Beware of the steepness, the wind, the cold and the narrowness…. otherwise go for it". It does get quite steep in parts and if the wind is howling it can be tricky to stay grounded. You were warned.
Needless to say the view from the top is spectacular. You can clearly see Kylemoore Abbey, directly west and of course the beautiful 12 Bens mountain range.
Only in Ireland could you have an Island that is only accessible during low tide. How? By driving across the beach to get to it, of course! Yup, you just follow the direction poles in the sand when the tide is low. Full tide? Forget it. For that reason, Omey is a really untouched spot. The beaches toward the end are scattered with tanned coloured boulders which looked great up against the white sandy beach. Not something Ive seen on any other beaches in Ireland! Beware the road on the island is only wide enough for one car and there are ZERO laybys, so you may want to leave the car behind if you go mid summer!
It has been a long time since I paid attention in Connemera. But now that I have my eyes wide open it's easy to say I'll be back!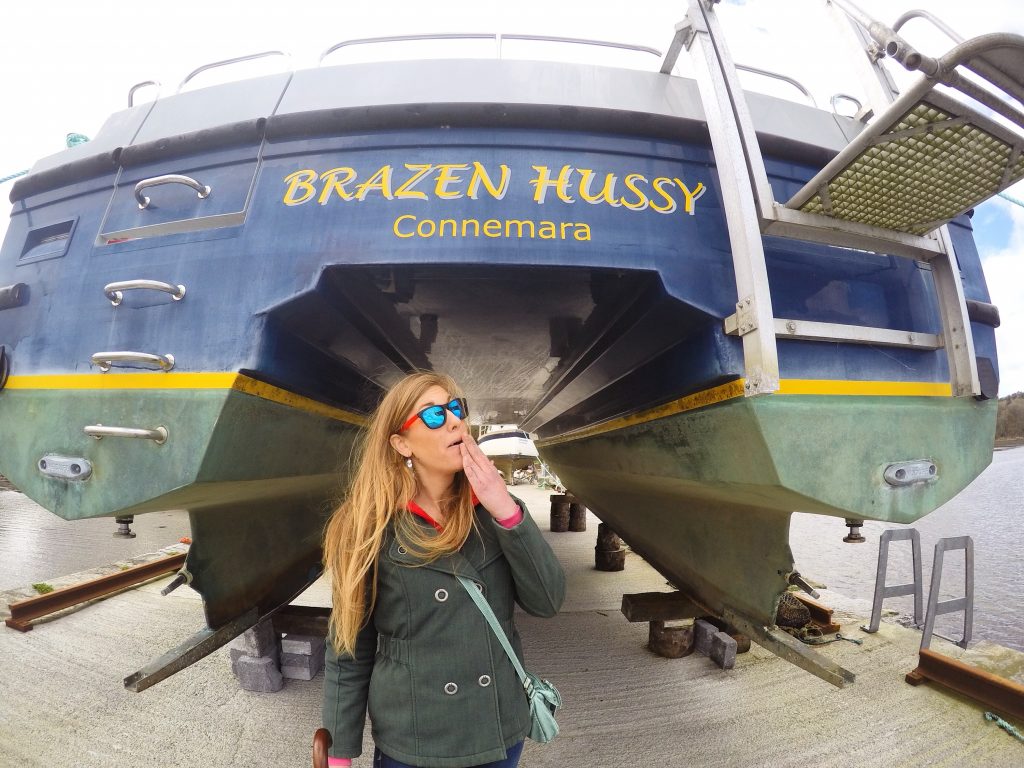 [jetpack_subscription_form title="Subscribe to my blog" subscribe_text="Enter your email to receive notifications of new blog posts!" subscribe_button="Sign Me Up" ]