When you think of Greece, you think of blue and white walls, cats and beautiful turquoise waters! But what about the Feta? I had forgotten about the feta and how GOOD it is! Not forgetting the people, the stunning coast lines, sea life and the amazing food! I had filled my head with photos, videos and other people's accounts of Zakynthos before leaving! But there is nothing like actually swimming in those turqoiuse waters, viewing those amazing caves and lapping up the lush greenery! Some places you just have to visit for yourself!
Like many Greek islands tourism is important but in many places its at the loss of the local culture and the atmosphere. So, in order to make sure we didnt miss out on any of this, we rented a scooter, which took us to all four corners of the island! One of the first stops was Korakonisi Bay. A tricky one to find! This is an incredibly beautiful rocky wilderness! Make sure you take a look from above before walking down the path into the bay.
The rocks have formed in such a way to create an island with a unique arch to the top! Climbing up the arch will only get you so far (unless you've got climbing gear) but you can climb up to the top from the right side where you will find a mysteriously well-made hut!? How on earth they got the materials there to do that I do not know, as the rocks are super sharp and full of holes! Best advise is dont do it in flip flops! (we did – lots of scrapes!!). I struggled to find any info about this place before we got to the Island but I would highly recommend searching for it as its such a super spot for a photo!
Directions wise, its on the west coast about 3/4 way down. We came from the south of the island and there was no sign for it. (there is a sign coming from the North) The only landmark I could give you, is a family-owned stand on the right side of the road, selling honey! (beautiful honey, which we bought and devoured within the week – YUM!) It was basically the next main left turn after the stand. Once you take the left turn, just a few hundred meters down the road there is a white slab of rock and someone has spray-painted "Korakonisi" on it! Good Luck!
We traveled with Falcon holidays from Dublin Airport which was an OK flight time and a nice crew made it easy! We stayed in Kalamaki, on the south of the Island. This town is great for so many reasons. First, because its right beside the airport (no long transfers for us) and secondly because its right beside one of the turtle nesting beaches! The Hotel itself was incredible. Louros Beach, just far enough off the main street but within 2 mins walk to the beach! The hotel gardens were among the best Ive seen, so lush with colors and immaculately kept with lovely corners of shade. A little slice of paradise!
The staff were excellent and so helpful with any of our touristy questions! Spotlessly clean and, by the looks of it, very newly renovated. We spent very little time lounging around the hotel grounds, unfortunately, as there was so much to see and only a week to see it!
There really is so much to cover on this small island. Our first trip on the scooter was great! Very little traffic and not enough roads to get lost! The smell of sage and fresh pine in the air is just refreshing! We drove to Limni Keriou, on the south west coast, with the intention of hiring a boat to check out the caves. To our surprise, we needed no boat license, no knowledge and no worries! 🙂
Boat Rental
We hired from Captains Motorboat rentals, right beside the pier in Limni Keriou. After pricing a few different boats, it was clear… you get what you pay for. A seriously luxury boat would cost an extra €20-30 in total, but we were quite happy with the basic model. It cost us €60 for 4 hours and free petrol! No deposit! Deal. Highly recommended! After a very brief, "here is the wheel, this makes it go, this makes it go backwards, this is the anchor", we pottered on out of the harbor! Both grinning at each other as if we'd just been entrusted to something we shouldnt have been!
With every piece of snorkel and camera equipment tucked safely into the boat, we went zipping along, looking for some nice caves to dive in! What is known as 'Zakynthos Marine park' is located all along the southern coast of the Island. This area is protected, as it is a nesting ground to the Caretta-Caretta sea turtles. The females lay their eggs along the beaches of the southern coast and 60 days later the newly-hatched, little guys head back to sea! (Despite some early, hopeful search sessions on the beaches, unfortunately, we did not manage to spot any! Sadness!) Our boat excursion covered a distance from Limni Kerou, up to the Keri caves, and over to the island of Marathonissi (Turtle island).
We motored on over to the last cove before Keri lighthouse and anchored there. The water was crystal clear even at great depths. Jumping in has never been so easy! It wasn't long, however, before we encountered THE JELLYS! There was just a few at first and they were small, babies, harmless right? Moments later we realised we were surrounded! AGH! A quick Finding Nemo reference came to mind! 'Bounce on the tops, don't touch the tentacles!' Several screams through the snorkel were heard when one of those opaque, floating blobs pressed itself up against my mask!! Startling! We didn't get stung, though…not once. So, go ahead, people! Go snorkeling with the baby jellys, at the Keri caves! It's OK!
A 20 minute spin over to turtle island was the next stop. The island is one of the main parts of the marine park so you are instructed to land on the beach, where boat-rental staff are waiting to help you pull in the boat! One of the greatest sites to be seen was the "Snack Boat"! Just think of it! You've been on the water for a few hours now and you're pretty ravenous, hungry enough to consider fishing yourself, if necessary! But then…the snack boat toddles up to the shore heralding Mars ice creams, donuts and sandwiches! Fantastic stuff! I literally would have paid anything! So I got all of the above and ate it in seconds!
Now, I'm not the kind to join the hordes of tourists in guided tours, but in order to see the Navagio Shipwreck on the west coast, it had to be done. We started off in Zante harbour and sailed to the top of the island and around to Navagio. Coming around to the inlet of Navagio you cannot help but notice the sheer height of the cliff tops. They tower over the small beach at just under 1000ft.
We got an hour to investigate/swim/sunbathe! The shipwreck is much larger than it looks, and somewhat sad to see it plonked in the middle of the beach covered in graffati. There are many interesting tales behind this abandoned ship, but I'll let you discover them for yourself!
Still on our guided tour, we stopped at the Blue caves for another swim stop. They anchor beside the caves so it is a nice idea to swim the 30 meters over to the caves themselves. All smaller boats trips zip in and out through the caves themselves and under the arches, but I would rather swim to them!
A boat full of Chinese tourists passed us as they left the cave and started waving frantically at us!?? Perhaps we were the first people they'd ever seen swimming!? Although it was funny to watch Robyn wave frantically back at them! This trip only took a half day, so we still had the evening to explore.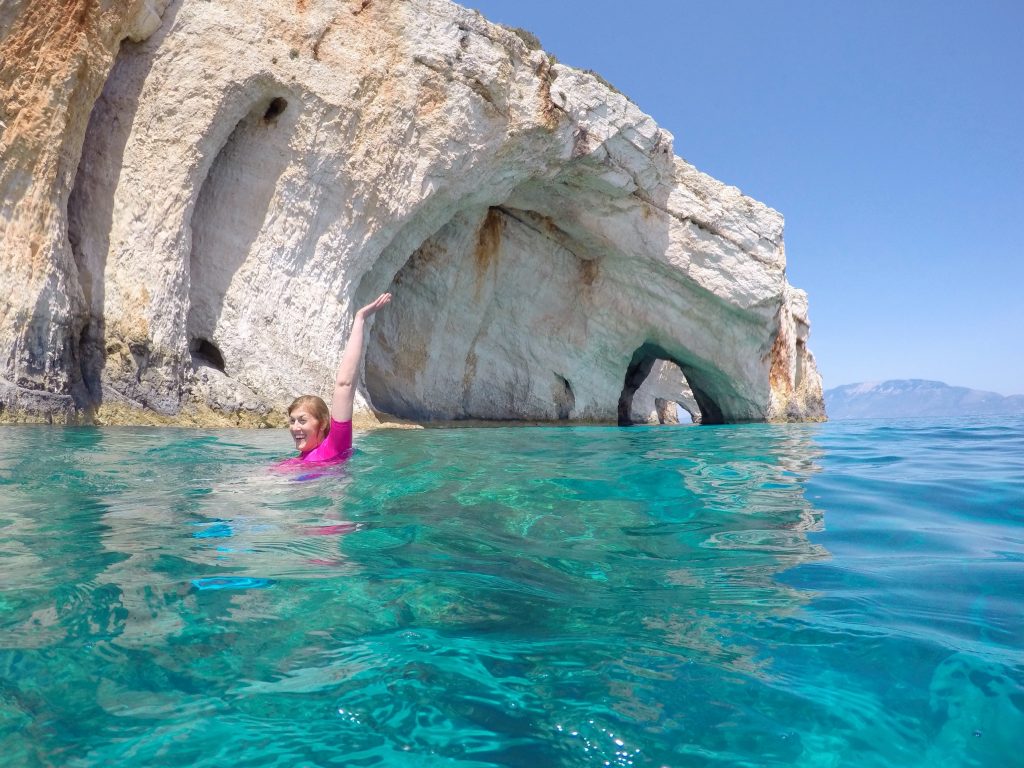 Another view point that I would recommend seeing is of the shipwreck from the cliffs above. Well known as one of the best spots in the world for base jumping due to the sheer height. There is a short walk down through the scrubs to get to the edge. I'm not afraid of heights but this is a massive drop that would terrify the average person!
We passed by Xigia Beach on the way to Zante port. Xigia is a small bay with water filled with collagen and sulphur meant to have therapeutic and relaxing! Not the best place to snorkel as you can see the sulphur rising from below, which clouds the water. I cant say I found it anymore relaxing than normal sea swimming but I enjoyed it either way!
Our scooter clocked up 450km that week. We literally drove to every corner of the island. If you are getting a scooter I can recommend using Alykes Rentals based in Alykes & Alykanas just north of Zante. Nico was fantastic to deal with.
He delivered the scooter to our Hotel in Kalamaki and collected it at the end of the week. He recommend 125cc as 50cc just wouldn't get up the hills and there is quite a lot of hills. We managed to fit everything we needed into it, fins, snorkel, masks, towels, Nikon, Gopro and a drone! 🙂 Top box and a decent space under the seat. It was the best way to get around. Parking was never an issue, it was nice and cool on the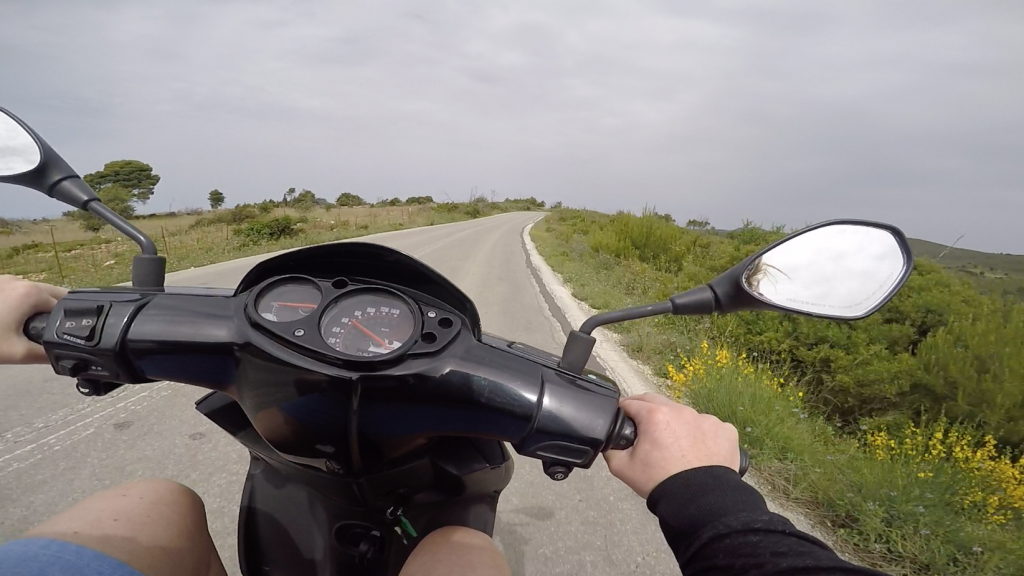 hot days (no air con needed!) and it €6 to fill it! We also spotted little gem's like this olive grove glistening with purple wildflowers at sunset – since it's so easy to just pull in and take a photo, we did so several times. Also! The swallows flew in front of the scooter, zipping, diving and dancing along… it really felt like summer!
As for the turtles we never saw one. We did see the nests on the beach, which are well protected by small cages but if you really want to see them, perhaps take the turtle spotting boats… that's just too touristy for me but these guys know how to spot them! Not forgetting to mention the feta! You just cant get bad food on this island. Pick your restaurant carefully, though, if you want real Greek food! We lived on Pita, feta, meatballs, tzatziki and chicken souvlaki. Looking for some good restaurants? Try the Olive tree and Michaelos in Kalamaki, Ammos Taverna in Zante harbour (one of our favorites) and the Poseidon In Limni Keri.
So if you really want to see this island, do your research and get on the road because it's beautiful!!
Aklyes Scooter Rental: http://www.alykes.com/rentals/maroudas/
Captains Motorboat rental: http://zanteboatrentals.gr
We got a fantastic deal with Falcon holidays and stayed at the Louros Beach Hotel and Spa.
Falcon Holidays to Zante: http://www.falconholidays.ie/f/greece/ionian-islands/zante-holidays
[jetpack_subscription_form title="Subscribe to my blog" subscribe_text="Enter your email to receive notifications of new blog posts!" subscribe_button="Sign Me Up" ]