The Comeragh mountains is a glaciated mountain range. Yes in Waterford… Ireland!
The Comeragh Mountain range stretches from the coastline of Dungarvan all the way into Clonmel. A stunning range of rugged and steep mountains that hold many treasures along the way! The so called Jewel of the Comeraghs is the glacial lake of Coumshingaun. I have wanted to climb this mountain for years now. Finally, myself and my adventure buddy, Robyn, got the chance to do just that!
We stayed in the Barnawee Bridge Bed and Breakfast in Dungarvan. This was only 20 minutes from the trail head of Coumshinguan hike. The day before the climb, we were weather watching and we had a problem! There was a very small window of opportunity to climb, based on super low cloud. So the options were, get up at 4am and begin the hike at 5am or wait until the cloud cleared at 5pm and begin the climb until sunset. It was July, hence it didnt get dark until 10pm. Slightly reluctantly we choose the 4am option. Disclaimer! I choose the route mapped out on active me.ie Don't take this route! It obviously hadn't been walked in years and we trekked through a fern jungle for an hour to get onto the trail. There is a car park called Kilcooney Wood, slightly further down the road (R676) that is a much better idea. But once you climb over the the stile, go left! Not straight! Don't say I didnt tell you!
We started out on the road in pitch dark! The sun came up slowly spilling it's light across one field at a time. As we approached the lake, the view was just stunning. The sun had claimed an orange glow over the entire scene. The sheep were even orangey white!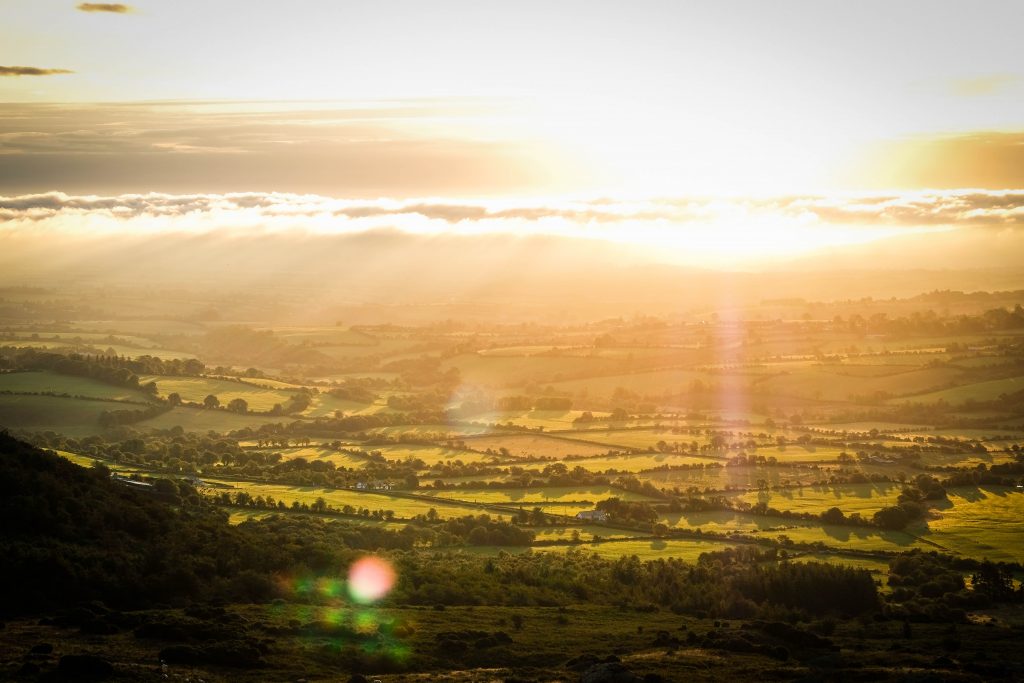 A thick line of sunlight and shadows dropped slowly down the face of the mountain as the sun rose. We stopped for a while, snapped some photos and kept climbing up the southern ridge. It was fairly steep at that stage. Steep like you'd wish you'd spent more time on the stair-master in the gym.
As we got onto the ridge line it got very windy but we knew we didnt have far to go at that stage. We were aiming for the steep view from above of Coumshinguan lake. The trail turned into a rock path and eventually just rocks.
You definitely need your Merrells for this part. Mossy and slippy in places, we made our way up until we could see the lake at it's fullest. It was extremely windy at this point. Naturally I asked Robyn to go sit on a ridge in the wind so I could take a photo! (Sorry pal… totally worth it)
The view was like a super pano on your iphone, but in real life. Such a huge expanse of land could be seen from where we stood. The sheer drop down to the lake gave such a depth of colours and shadows and light. It was so green at this time of year! We had only been there for 10 minutes when a huge bank of cloud started to roll up behind the mountain. Within 20 seconds, we were in full cloud, with messy misty rain! Just like that, the view was gone and so was our path back down.
Thankfully my Garmin (nope, I'm not sponsored…but I should be) has a GPS trackback and a compass. It's incredible how fast you can loose your sense of direction when fast moving cotton wool completely clouds your senses! Literally!
We started back quickly while we still remembered the path. Getting a little lower, the cloud broke enough for us to see where we were. As we got even lower again, it was back to a sunny clear morning, although we were still soaked from the mist! I looked back up and the cloud was just sitting, stuck in position on top of the highest ridge, just raining and misty in one spot!
It was now about 7:20 and we knew breakfast at the B+B was at 8am. Nothing like the smell of a fry up in your mind to get you down the hill quickly! The walk back down wasn't entirely free of discussion of direction, since we didn't wanna end back in the fern jungle. We took a slightly different path down, which felt a lot quicker. Bogged up socks and sheep poop everywhere… we finally got back to the car. Soaked but happy. Making it back to the B+B for exactly what we wanted…. a smashing fry up and well earned!
It was an incredible sight to finally see Coumshingaun lake and especially from so high up on the ridge. Maybe next time it would be nice to walk the entire ridge and back down to the other side. Certainly one I wont forget, with the patchwork layout of our green little country nestled into the backdrop, it really was a a beautiful sight!
[jetpack_subscription_form title="Subscribe to my blog" subscribe_text="Enter your email to receive notifications of new blog posts!" subscribe_button="Sign Me Up" ]